Res-q O3 Max liquid Omega 3 Fish Oil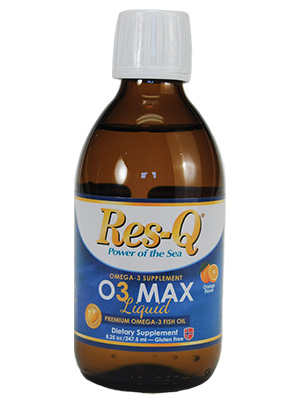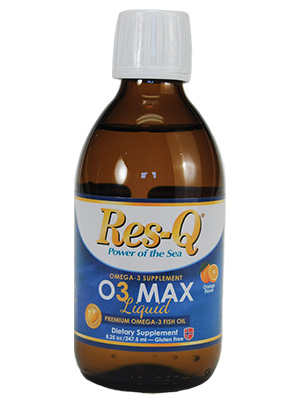 Res-q O3 Max liquid Omega 3 Fish Oil
O3 MAX Omega-3 Liquid
• Power-packed with omegas – just 1.5 teaspoons a day is all you need!
• Supports blood pressure and heart rhythm*
• Balances inflammatory response*
• Lowers triglyceride level, boosts HDL level*
• Helps improve mood*
• Increases joint mobility and flexibility*
• Promotes healthy circulation*
Suggested Use: Adults take 1.5 teaspoons daily prior to a meal or bedtime. Shake well before using.
Supplement Facts
Serving Size 1.5 Teaspoons (7.5 ml)
Servings Per Container 33
Amount Per Serving
Calories 70
Calories from Fat 70
Total Fat 8 g
Saturated fat 0 g
Monounsaturated fat 1 g
Polyunsaturated fat 5 g
Cholesterol 15 mg
Protein 0 mg
Omega-3 Fatty Acids 4,350 mg
EPA (eicosapentaenoic acid) 2,205 mg
DHA (docosahexaenoic acid) 1,650 mg
Additional Omega-3s 495 mg
Ingredients: Highly Refined and Concentrated Omega-3 Marine Oil (derived from one or more of Anchovy, Sardine, Mackerel, or Chilean jack mackerel), Natural Orange Flavor, and Oxy'Block® RX (consisting of Natural Rosemary extract, Sunflower oil, Mixed tocopherols, mono and diglycerides of fatty acids, non-GMO quality).
This product is gluten free, soy free, dairy free, caffeine free, nonGMO, product of Norway, and Friend of the sea.
*It is recommended that a physician be consulted before taking any supplements. These statements have not been evaluated by the Food and Drug Administration. This product is not intended to diagnose, treat, cure or prevent any disease.
Storage: Refrigerate after opening. Store in a cool, dry place. Protect from heat, light and moisture.