Potent C Guard Powder -8 oz. by Perque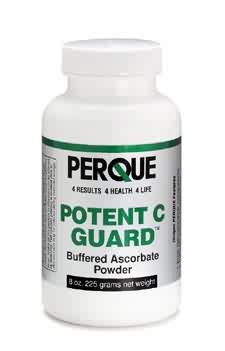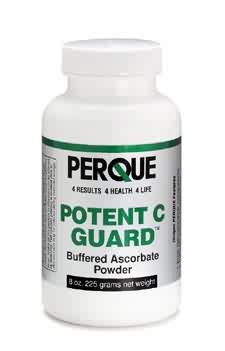 Potent C Guard Powder -8 oz. by Perque
Potent C Guard™ Powder 8 oz
Buffered Ascorbate Powder
Perque products may only be purchased by Health Care Professionals. Patients who want to buy Perque products may obtain them from their Health Care Professional.
Dietary Supplement
Supplement Facts
Serving Size: 1 rounded half-teaspoon
Servings Per Container: 143
Amount Per Serving:
Vitamin C (100% l-ascorbate, fully reduced, corn free) 1584 mg
Potassium (as ascorbate) 99 mg
Calcium (as ascorbate) 40 mg
Magnesium (as ascorbate) 16 mg
Zinc (as ascorbate) 600 mcg
Full disclosure label (no hidden or inactive ingredients)
Directions: Take one (1) rounded half-teaspoon mixed with two (2) to four (4) ounces of liquid or as directed by your health professional. Use only dry transfer spoons to remove powder from bottle. Keep tightly capped and moisture free. Please take a few deep, relaxing breaths while the natural effervescence subsides (~1 min.). May be kept on the counter, in refrigerator or freezer to maintain dryness.
KEEP OUT OF REACH OF CHILDREN. Must be stored with cap on tightly in a cool, dry place. Do not use product if the tamper-resist shrink band around the cap or the inner seal beneath the cap appears to have been tampered with or is missing.
WARNING: As with all potassium containing food supplements persons with renal insufficiency should consult their health professional before using this product.
NOTE: Ability of this product to effervesce can be affected by humidity. Full nutrient potency is retained even as effervescences may be reduced during extended storage.
Unique PERQUE Features
Pure, hypoallergenic components
Fully bioactive
Organic base
Biochemically formulated
Includes cofactors that are usable in generating high-energy compounds
Vitamins, minerals, synergistic cofactors
DOES NOT CONTAIN: citrus, MSG, wheat, gluten, corn, starch, sugar, wax, soy, yeast, zein, sulfate, phosphates (other than coenzymes), preservatives, casein or other milk derivatives
NO GMOs
100% vegetable, energized formula