HMF forte - 60 capsules by Seroyal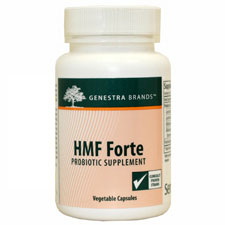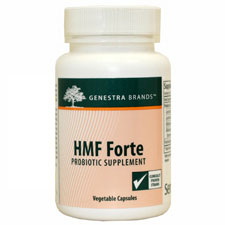 HMF forte - 60 capsules by Seroyal
HMF Forte 60c(F) is available by Seroyal/Genestra.
Promotes optimal intestinal health in adults and children*
Supports healthy gut microflora balance*
Provides 20 billion CFU per day from two strains of Lactobacillus acidophilus, Bifidobacterium bifidum, and Bifidobacterium animalis subsp. lactis
HMF Forte is a unique combination of four strains of proprietary, human-sourced probiotics that helps to promote gastrointestinal health in adults and children. Supplementation with large numbers of a combination of microorganisms will help maximize intestinal colonization, supporting the growth of beneficial bacteria. Lactobacilli and Bifidobacteria, the most commonly used probiotics, help colonize the intestines and mediate the permeability of epithelial cells. In a randomized, placebo-controlled trial involving 22 adults, daily supplementation with a probiotic containing Lactobacillus acidophilus supported a healthy microflora balance.*
Servings Per Container: 60
Take one capsule two times daily with meals or as recommended by your healthcare practitioner.
Serving Size: 1 Capsule
Amount Per Serving
Probiotic Consortium ... 10 billion CFU*
Lactobacillus acidophilus (CUL-60)
Lactobacillus acidophilus (CUL-21)
Bifidobacterium bifidum (CUL-20)
Bifidobacterium animalis subsp. lactis (CUL-34)
Other Ingredients: Cellulose, hypromellose, silica, magnesium stearate
Guaranteed to contain no added wheat, starch, gluten, soy, artificial coloring or flavoring, antimicrobial preservatives, dairy or animal products. Ideal for vegans