Res-q RenewU Age-defying Mix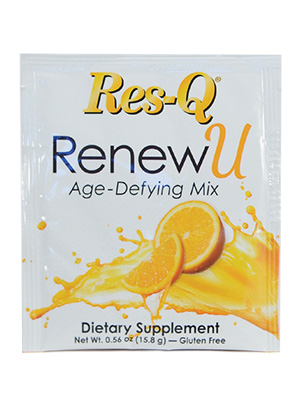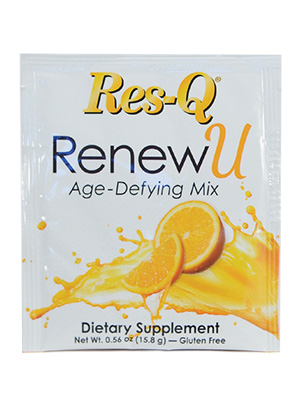 sold out
Res-q RenewU Age-defying Mix
RenewU Age-Defying Mix
• Boosts natural human growth hormone*
• Promotes healthy muscle mass*
• Supports healthy, ageless skin*
• Preserves mind & body wellness*
Suggested Use: Mix one packet with 8 fl oz of water. Drink one packet daily for maximum results.
Supplement Facts
Serving Size 1 packet (15.8 g)
21 packets in a box
Amount Per Serving
Calories 30
Total Carbohydrate 6 g
Sugars 5 g
Vitamin A (as beta-carotene) 770 IU
Vitamin C (as ascorbic acid) 600 mg
Magnesium (as magnesium aspartate) 160 mg
Zinc (as zinc bisglycinate chelate) 15 mg
Selenium (as selenium amino acid chelate) 100 mcg
Copper (as copper citrate) 1 mg
Chromium (as chromium polynicotinate) 100 mcg
Essential Amino Acid Blend: L0Arginine, glycine, L-glutamine, L-tyrosine, L-lysine HCl 5,245 mg
Skin Support Blend: DMG (N, N-dimethylglycine HCl), GABA (gamma-amino butyric acid), green tea leaf extract, alpha-lipoic acid, grape skin extract, lycopene 420 mg
Stevia leaf extract 225 mg
Mental Focus Blend: DMAE bitartrate (150 mg), resveratrol [from Polygonium cuspidatum root extract (5 mg)] and Ginkgo bilboa leaf (5 mg) 160 mg
Magnesium orotate 50 mg
Inosine 50 mg
Other ingredients: sucrose, citric acid, natural flavors, silica, beet root (for color) and medium chain triglycerides.
This product is gluten free, soy free, dairy free, caffeine free, and vegan.
*It is recommended that a physician be consulted before taking any supplements. These statements have not been evaluated by the Food and Drug Administration. This product is not intended to diagnose, treat, cure or prevent any disease.
Storage: Store in a cool, dry place. Protect from heat, light and moisture. Keep out of reach of children.