Res-q Land n sea fiber capsules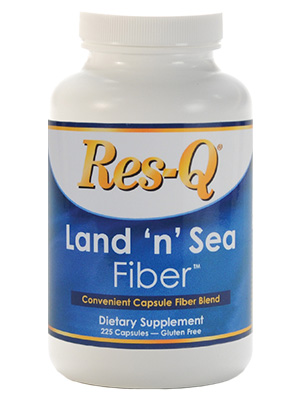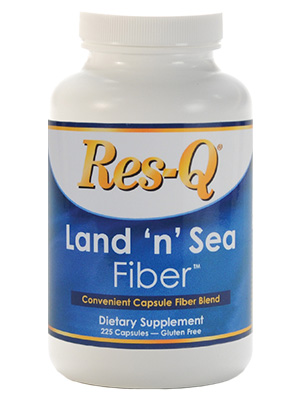 sold out
Res-q Land n sea fiber capsules
Land 'n' Sea Fiber Capsules
• Promotes strength of the intestinal barrier*
• Promotes a clean, healthy intestinal tract*
• Reduces constipation*
• Helps manage irritable bowel syndrome*
• Normalizes bowel movements*
• Inhibits yeast and fungal infections*
Suggested Use: Adults take 5 capsules, 1 to 3 times a day, with food.
For regularity: Res-Q Land 'n' Sea Fiber promotes easy, healthy elimination and sweeps waste out of the colon. To maintain regularity and speed waste removal, take 1 to 3 servings a day, with food. For best results, use daily as long as desired.
For heart health: Res-Q Land 'n' Sea Fiber helps support heart health. For this purpose we suggest 3 servings per day, with food. For best results, use daily as long as desired.
Take each serving with at least 8 fl. oz. (a full glass) of water or other liquid.
Supplement Facts
Serving Size 5 Capsules
Servings Per Container 45
Amount Per Serving
Calories 10
Total Carbohydrate 3 g
Dietary Fiber 3 g
Iodine 33 mcg
Proprietary Fiber Blend 3,000 mg
Psyllium seed husks
Kelp
Other ingredients: gelatin, microcrystalline cellulose (food-grade cellulose), magnesium stearate and silica.
This product is gluten free, soy free, dairy free, caffeine free, vegetarian and nonGMO.
CAUTION: People with thyroid disease should check with a doctor before taking supplements that contain kelp. A very small percentage of individuals, particularly healthcare providers who have been occupationally exposed to psyllium dust, may develop a sensitivity to psyllium, which may result in an allergic reaction. If you experience a strong reaction, with difficulty swallowing or breathing after taking this product, seek immediate medical attention.
*It is recommended that a physician be consulted before taking any supplements. These statements have not been evaluated by the Food and Drug Administration. This product is not intended to diagnose, treat, cure or prevent any disease.
Storage: Store in a cool, dry place. Protect from heat, light and moisture. Keep out of reach of children.