Res-q SmartCal+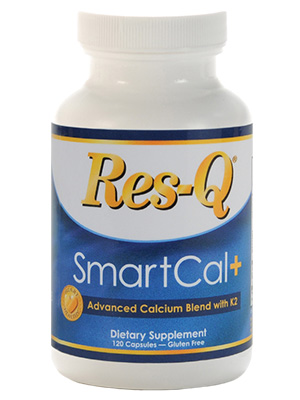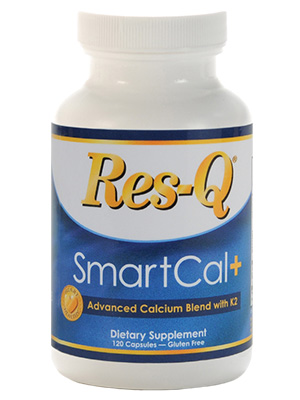 SmartCal+
• Supports bone and heart health*
• Designed for both men and women
• Channels calcium directly to bones*
• Includes zinc, boron and manganese for bone health
Suggested Use: Adults take 4 capsules daily or 2 capsules twice a day, preferably with a meal.
Supplement Facts
Serving Size 4 Capsules
Servings Per Container 30
Amount Per Serving
Vitamin D (as cholecalciferol) 1,000 IU
Vitamin K2 (as menaquinone-7) 100 mcg
Calcium (as dicalcium malate, calcium bisglycinate chelate, & calcium fructoborate) 700 mg
Magnesium (as magnesium oxide) 300 mg
Zinc (as zinc bisglycinate chelate) 2 mg
Manganese (as manganese bisglycinate chelate) 1 mg
Silica (from horsetail stem extract) 5 mg
Boron (as calcium fructoborate) (Fruitex B®) 3 mg
Other ingredients: hypromellose, magnesium stearate, and silica.
This product is gluten free, dairy free, caffeine free, and nonGMO.
*It is recommended that a physician be consulted before taking any supplements. These statements have not been evaluated by the Food and Drug Administration. This product is not intended to diagnose, treat, cure or prevent any disease.
Storage: Store in a cool, dry place. Protect from heat, light and moisture. Keep out of reach of children.