Res-q Brain Focus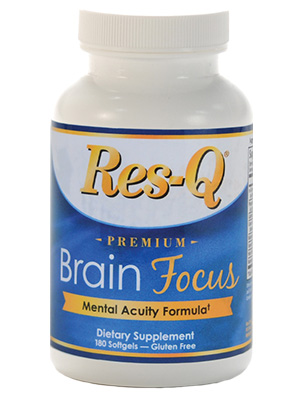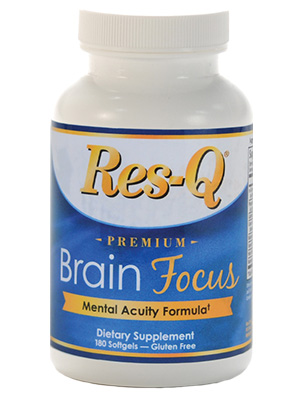 Brain Focus
• 3 powerful patented ingredients
• Proven to work in clinical trials*
• Stay sharp and focused at any age*
Suggested Use: Adults take 3-6 softgels daily.
Supplement Facts
Serving Size 6 Softgel
Servings Per Container 30
Amount Per Serving
α-Glyceryl Phosphoryl Choline(as AlphaSize® 100P) 600 mg
PhosphatidylSerine (as SerinAid® 20F) 100 mg
Gastrodin 50 mg
Grape Seed Extract (standardized to 50% polyphenols) 150 mg
Blueberry Fruit 100 mg
Sensoril® Ashwagandha Extract 125 mg
Hops Flower Extract 100 mg
Rosemary Herb Extract 26 mg
Ingredients: Soybean Oil, Beeswax, Gelatin, Glycerin, Lecithin, Water, and Carob (trace amount for color).
This product is gluten free, dairy free, caffeine free. Contains: Soy.
AlphaSize® and SerinAid® are registered trademarks of Chemi Nutra.
AlphaSize® is protected under patents pending by Chemi Nutra.
SerinAid® is protected under U.S. Patents 5,700,668, 6,492,146, 6,645,742, 6,673,378, and 8,124,594.
Sensoril® is protected under U.S. Patents 6,153,198 & 7,318,938 and is a trademark of Natreon, Inc.
*It is recommended that a physician be consulted before taking any supplements. These statements have not been evaluated by the Food and Drug Administration. This product is not intended to diagnose, treat, cure or prevent any disease.
Storage: Store in a cool, dry place. Protect from heat, light and moisture.