Res-q Ultimate B Complex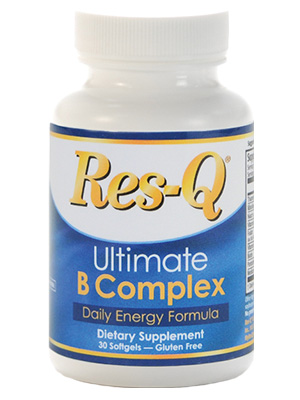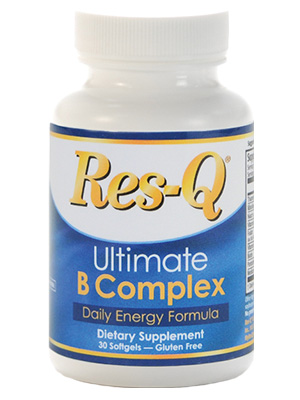 sold out
Res-q Ultimate B Complex
Ultimate B Complex
• Supports your body during stress*
• Helps convert food into energy*
• Good for brain and nerve health*
• Improves emotional stability and mood*
• Promotes healthy muscles, hair, skin & nails*
Suggested Use: Adults take one (1) softgel daily.
Supplement Facts
Serving Size 1 Softgel
Servings Per Container 30
Amount Per Serving
Thiamin (as Thiamin Hydrochloride) 30 mg
Riboflavin 30 mg
Niacin (as Niacinamide) 30 mg
Vitamin B6 (Pyridoxine Hydrochloride) 30 mg
Folate (as (6S)-5-MTHF Glucosamine salt) (Quatrefolic®) 400 mcg
Vitamin B12 (Methylcobalamin) 1000 mcg
Biotin 300 mcg
Pantothenic Acid (as D-Calcium Pantothenate) 30 mg
Medium Chain Triglyceride (MCT) Oil 455 mg
Ingredients: Gelatin, purified water, glycerin, beeswax, soy lecithin IP, soybean oil, caramel color.
This product is gluten free, dairy free, caffeine free, and nonGMO. Contains: Soy, tree nuts (palm kernel). No preservatives added.
Quatrefolic ® is a registered trademark of Gnosis SPA. Patent No. 7,947,662
*It is recommended that a physician be consulted before taking any supplements. These statements have not been evaluated by the Food and Drug Administration. This product is not intended to diagnose, treat, cure or prevent any disease.
Storage: Store in a cool, dry place. Protect from heat, light and moisture. Keep out of reach of children.