Res-q Curcumin ULTRA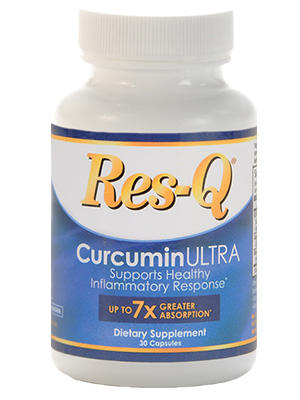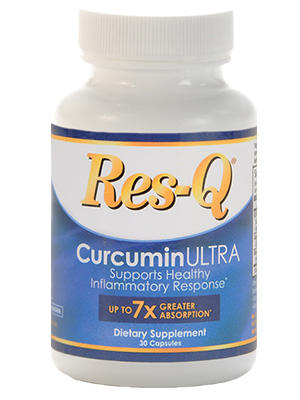 sold out
Res-q Curcumin ULTRA
CurcuminULTRA
• Acts as a natural pain reliever*
• Aids healthy inflammatory response*
• Supports cardiovascular health*
• Promotes cognitive function*
• Contains natural antioxidants*
Suggested Use: As a dietary supplement, adults take one (1) capsule daily preferably with a meal or as recommended by a healthcare practitioner.
Supplement Facts
Serving Size 1 Capsule
Servings Per Container 30
Amount Per Serving
BCM-95® Bio-Curcumin® [Curcuma longa rhizome containing curcuminoids (not less than 344 mg) and essential oils] 400 mg
Ginger Root Extract (Zingiber officinale) (std. to 5% Gingerols) 60 mg
BioPerineTM black pepper fruit extract (std. to 95% piperine) 5 mg
Ingredients: Gelatin, magnesium stearate, stearic acid, silica and talc.
This product is gluten free, soy free, dairy free, and caffeine free.
Possible side effects: Temporary flushing, itching, rash or gastric disturbances may occur. If these symptoms persist, discontinue use and consult a physician. Not for use by individuals under the age of 18 years. Do not use if you are pregnant or nursing.
Bio-Curcumin® and BCM-95® are registered trademarks of Dolcas-Biotech, LLC. U.S. Patent Nos. 7,883,728, 7,736,679 and 7,879,373.
*It is recommended that a physician be consulted before taking any supplements. These statements have not been evaluated by the Food and Drug Administration. This product is not intended to diagnose, treat, cure or prevent any disease.
Storage: Store in a cool, dry place. Protect from heat, light and moisture. Keep out of reach of children.