Res-q 1250+ Omega-3 Fish Oil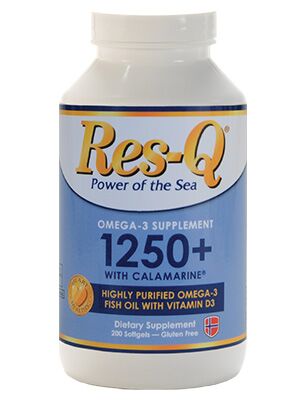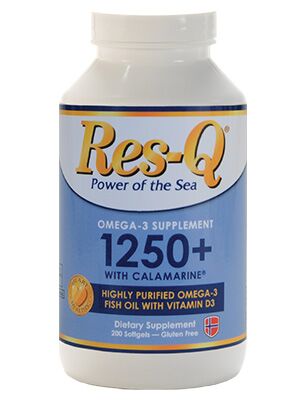 Res-q 1250+ Omega-3 Fish Oil
1250+ Omega-3 & Vitamin D3
• Maintains a healthy immune system*
• Supports a healthy heart and bones*
• Balances inflammatory response*
• Improves joint mobility and flexibility*
• Supports brain and eye health*
• Promotes healthy circulation
Suggested Use: Adults take 4-6 softgels daily. Take 2 softgels, two to three times daily. For larger doses, please consult a healthcare practitioner.
Supplement Facts
Serving Size 2 Softgels
Servings Per Container 100
Amount Per Serving
Calories (energy) 30
Total Fat 2.6 g
Cholesterol 10 mg
Protein <1 g
Vitamin D (as D3 – cholecalciferol) 25 mcg (1,000 IU)
Omega-3 Fatty Acids 1,600 mg
EPA (eicosapentaenoic acid) 520 mg
DHA (docosahexaenoic acid) 880 mg
Additional omega-3s 200 mg
Oxy'Block® (Sunflower oil, Natural tocopherols, Natural Rosemary extract, palmitate) 4 mg
Ingredients: Highly refined and concentrated omega-3 oil (calamari, anchovy, sardine), capsule (gelatin, glycerin and purified water), natural lemon/lime flavor, Oxy'Block®, cholecalciferol.
This product is gluten free, dairy free, caffeine free, nonGMO, and a product of Norway.
Calamarine® is a registered trademark of Pharma Marine Group.
*It is recommended that a physician be consulted before taking any supplements. These statements have not been evaluated by the Food and Drug Administration. This product is not intended to diagnose, treat, cure or prevent any disease.
Storage: Store in a cool, dry place. Protect from heat, light and moisture.