Res-q Leg & Vein Support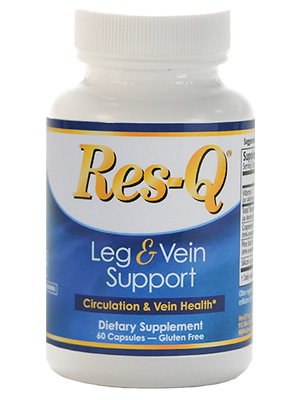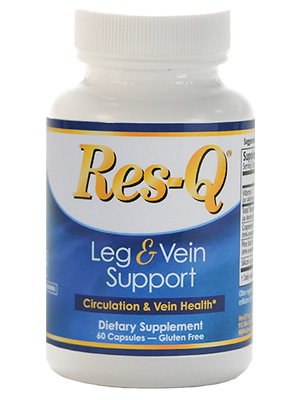 sold out
Res-q Leg & Vein Support
Leg & Vein Support
• Fights effects of prolonged standing or sitting*
• Combats leg swelling*
• Reduces feeling of leg heaviness*
• Helps blood vessels and blood flow in the legs*
• Maintains healthy veins and capillaries*
• Supports healthy circulatory system*
Suggested Use: Adults take 2 capsules daily.
Supplement Facts
Serving Size 2 Capsules
Servings Per Container 30
Amount Per Serving
Vitamin C (as calcium ascorbate and ascorbyl palmitate) 30 mg
Total flavonoids (as diosmin, hesperidin, rutin, quercetin dehydrate) 740 mg
Grapeseed extract (95% proanthocyanidins) 40 mg
Pine bark extract (85% proanthocyanidins) 40 mg
Silicon (as silicon dioxide) 10 mg
Other ingredients: Dicalcium phosphate, gelatin, microcrystalline cellulose (food-grade cellulose) and magnesium stearate.
This product is gluten free, soy free, dairy free, and caffeine free.
*It is recommended that a physician be consulted before taking any supplements. These statements have not been evaluated by the Food and Drug Administration. This product is not intended to diagnose, treat, cure or prevent any disease.
Storage: Store in a cool, dry place. Protect from heat, light and moisture.