Res-q Probiotic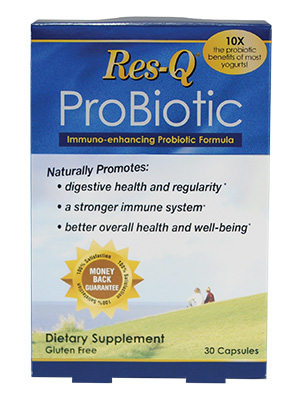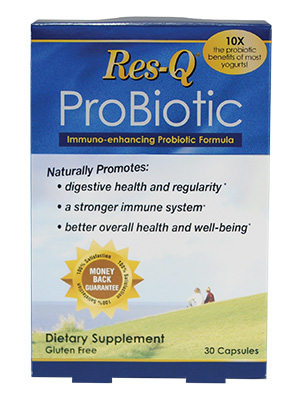 ProBiotic Digestive Aid
• Supports digestion*
• Fights dangerous organisms in the intestines*
• Promotes a clean, healthy intestinal tract*
• Reduces constipation*
• Strengthens the immune system*
• Normalizes bowel movements*
• Inhibits yeast and fungal infections *
Suggested Use: Adults take 1 capsule daily or as needed.
Supplement Facts
Serving Size 1 Capsule
Servings Per Container 30
Amount Per Serving
Probiotic Blend
Lactobacillus rhamnosus 8 billion CFU
Lactobacillus acidophilus 2 billion CFU
Lactobacillus casei 2 billion CFU
Bifidobacterium longum 4 billion CFU
Bifidobacterium bifidum 4 billion CFU
Other ingredients: microcrystalline cellulose, gelatin (capsule), magnesium stearate and silica.
This product is gluten free, dairy free, caffeine free, and nonGMO.
*It is recommended that a physician be consulted before taking any supplements. These statements have not been evaluated by the Food and Drug Administration. This product is not intended to diagnose, treat, cure or prevent any disease.
Storage: Each capsule is individually blister sealed. Do not use if seal is broken or damaged. Store in a cool, dry place. Protect from heat, light and moisture. Keep out of reach of children.