Ovablend by Vitanica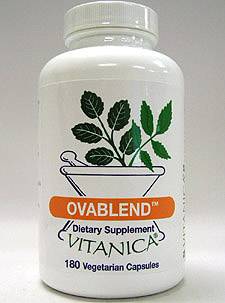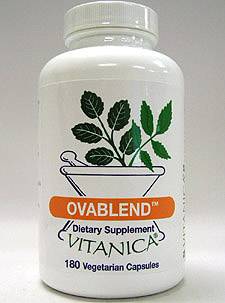 Ovablend™ 180 vcaps
Dietary Supplement
Supplement Facts
Serving Size: 3 capsules
Servings Per Container: 60
Amount Per Serving:
Vitamin C (as calcium ascorbate, buffered) 1000 mg
Calcium (as calcium ascorbate) 120 mg
Vitamin D2 (as ergocalciferol) 100 IU
Chromium (as polynicotinate) 200 mcg
Nettles root (Urtica dioica) 300 mg
Green tea extract (98% polyphenols, 80% catechins, 45% EGCG) ~ Camellia sinensis 250 mg
Saw Palmetto (45% essential fatty acids and sterols) Serenoa repens ~ 200 mg
Sarsaparilla ~ Smilax medica 130 mg
Bloodroot ~ Sanguinaria canadensis 130 mg
Other Ingredients: vegetable cellulose, water, L-Leucine
Suggested Use: Three (3) to six (6) capsules daily. Recommended taking with Soy Choice™, three (3) capsules per day, and 1 tbsp ground flax meal.
Avoid this product if pregnant
Tamper resistant: Please do not use if safety seal is broken or missing.
Keep in a cool, dry place out of reach of children.
This product contains no preservatives, binders, artificial colorings or flavorings, sucrose, glucose, starch, lactose, salt, corn, wheat or milk derivatives.
Ovablend™ is suitable for vegetarians